Seafront Residences - LOCATION
Make your way to Seafront Residences, a 43-hectare beach community located in peaceful San Juan, Batangas - the gateway to the Laiya corridor. At just 125 KM away from the busy streets of Metro Manila, you can live the better life.
Seafront Residences is located in San Juan, Batangas. This location is far from Metro Manila; however, that is the appeal for this development. Aboitiz Land chose a location that is secluded to offer the privacy that the future residents of this community needs and desires to have. After all, waterfront properties such as this seaside development are supposed to be remote and as far away from the hustle and bustle of the city.
However, future residents of Seafront Residences can enjoy the best of both worlds. San Juan, as one of the municipalities in Batangas, is one of the fastest growing municipalities in the province. It is bordered by other major municipalities such as Tayabas Bay, Rosario, and Candelaria. Hence, it is easy to access to and from other points in Batangas and neighboring provinces in the Calabarzon region.
San Juan is considered a first-class municipality and is a popular tourist destination in Batangas. To be specific, San Juan is flocked by tourists because of its beautiful white sand beaches. This helped boost the tourism industry in this area, which has provided more jobs than any other industries in the province (along with the agriculture industry). The white sand beaches in San Juan are some of the reasons why Aboitiz Land chose this location for the development of the exclusive Seaside Residences. But unlike most other tourists, homeowners will be able to enjoy these beaches any time of the day they want without the need to travel elsewhere. Paradise is no longer a vacation destination, but your home!
In addition to the beautiful white sand beaches, San Juan in Batangas has plenty more to offer. There are several other tourist attractions in the municipality such as Mount Daguldol, Naambon Falls, Malaking River, and the mangrove forest at Barangay Poctol. These natural tourist attractions exemplify the beauty of San Juan and how you will be able to make the most of them when you live here. On top of the natural tourist attractions, you can also explore other famous landmarks and sights like the ancestral homes that were built during the time of the Americans and the Spaniards, and the San Juan Nepomuceno Church (another one built during the Spanish colonial era).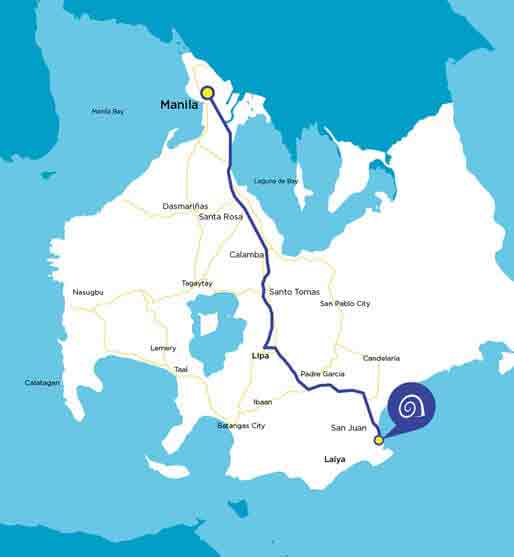 For families who decide to move into Seafront Residences in San Juan, Batangas, there are several educational institutions to choose from. The Joseph Marcelo Institute is one of the best private schools in San Juan. Meanwhile, you can also choose from Batangas Eastern Colleges and Batangas State University. All barangays also have their own elementary and high schools to choose from.
While this residential development offers many amenities that residents can enjoy, you also have plenty of options for things to see or places to visit in San Juan, Batangas. For your leisure and entertainment, you can visit the Laiya Southcrest Beach Resort & Nature Park and La Luz Beach Resort & Spa. For your dining pleasure, there are many good restaurants to try such as Bagong Tahanan and Cafeño.